Thanet Bowls Club - Welcome to our Website
Founded in1907
Affiliated to Bowls England; KCBA; KCWBA; IOTBA; IOTLL & Catherine Wheeler League

About Us
Our Aim is to promote bowls as a healthy, fun and, (for those who want it to be), a competitive sport that may be enjoyed by everyone. Whatever your age, sex, or physical ability you will be very welcome to join us.
Facilities

We are based in the beautiful coastal town of Ramsgate in Kent. The clubhouse and green are excellently maintained and the green in particular is recognised as one of the very best in the area.
Activities
Throughout the summer season we play in various local leagues, (mens, ladies and mixed), providing competition for bowlers at all levels. Many of our members bowl to high standard and compete successfully in county and national competitions. Our club competitions are also very well supported. For those who wish to simply enjoy bowling with friends and gaining all the social fun that this brings our three weekly roll ups typically attract 30+ members.
Coaching sessions are provided by qualified, experienced and enthusiastic Bowls England Coaches who can help beginners and experienced bowlers alike to improve their game.
As well as bowls we enjoy a varied social calendar including quiz nights, bingo, short mat bowls and short bowling breaks to UK resorts
Non-members are welcome paying a small green fee. Bowls and shoes are available for hire. If you wish to take advantage of a rink for an hour or two's fun you are advised to call the club in advance to ensure that match fixtures do not preclude availability of a public rink.
Drop by anytime to see our facilities meet our members and learn more about TBC.
Ricky Fontayne Rock 'n' Roll at TBC
TBC rocked the night away on Wednesday to the 60's music of Ricky Fontayne.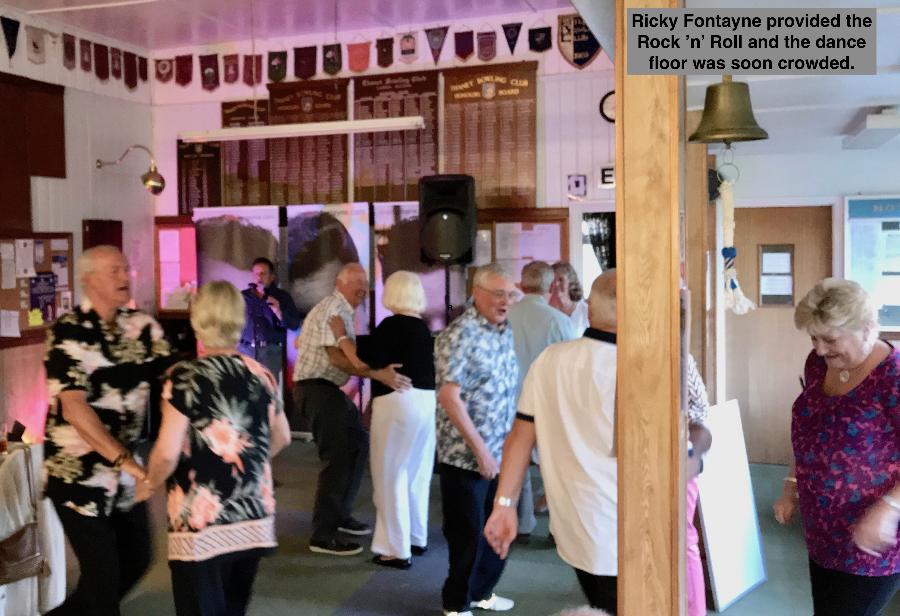 Congratulations to Alison Manby Winner of
TBC's inaugural Two Wood Singles Tournament
Our first 2 wood singles tournament was a great success thanks to the excellent arrangements, made by Competition Secretary Mike Burgess and of course the fantastic support of so many TBC bowlers who turned out to play and show their support throughout the day.
Alison Manby and Graham Palmer contested a very close final match and were separated by just a single shot, in Alison's favour, when the 18th end was concluded.
TBC would like to thank SeventySeven Wealth Management for their sponsorship of the tournament and for providing the trophies and champagne.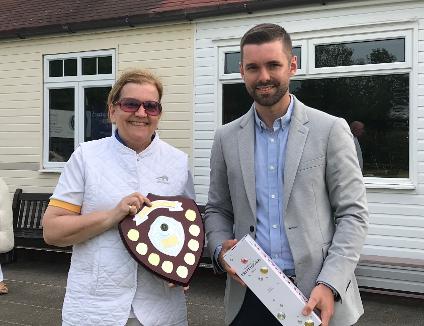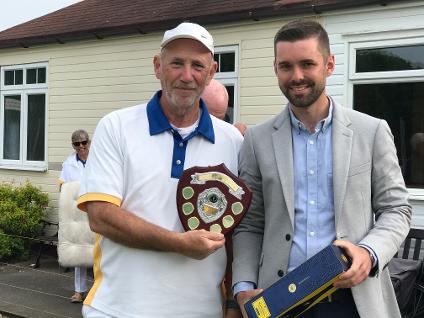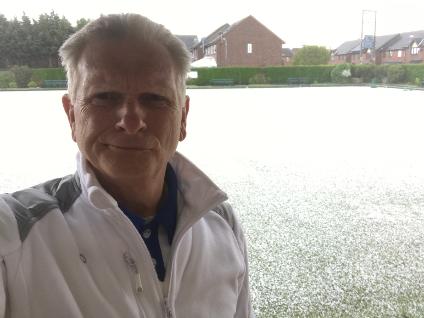 Chislet Catherine Wheeler Postponed
As the photo on the left suggests the weather, specifically a very heavy hail storm immediately prior to our Catherine Wheeler fixture at Chislet, rendered the green unplayable.
Thanks to everyone who turned out only to be disappointed. The fixture will be rearranged for a suitable date later in the season.
Congratulations to Steve Edwards
Memorial Shield Winner 2019
The final day of our two day Memorial Shield competition presented a cold and windy contrast to the heat and sun we enjoyed a week earlier on the preliminary, 'league' day. Steve Edwards was a very deserving winner bowling consistently well throughout.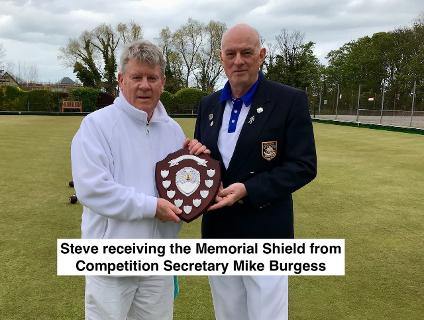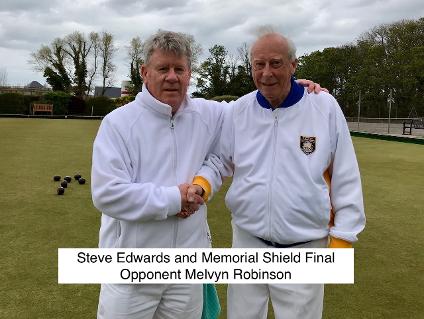 Roll Ups delayed until 12pm (Midday) on Thursdays
All members are advised that until further notice our Thursday Roll Ups will now start at 12pm. This change is unfortunate but essential in order to allow our greenkeeper to continue to maintain our green to the high standards we all require.
The Ladies League home matches start at 2.15pm on Thursdays, so those members participating in the roll up will hear a bell at 13.50, after which no further jacks may be delivered.
Thanet's Victorious Ladies League Team
Congratulations to the Thanet Bowls Club Ladies' League Team for their 2018 league victory. Pictured below are some of the bowlers who represented TBC throughout the season and who were presented with the winners trophy at the presentation evening held at the Thanet Indoor Bowls Club in February. Left to Right Kath Hogham, Geraldine Davis, Linda Zambrana, Gerry Wood and Mary Chambers.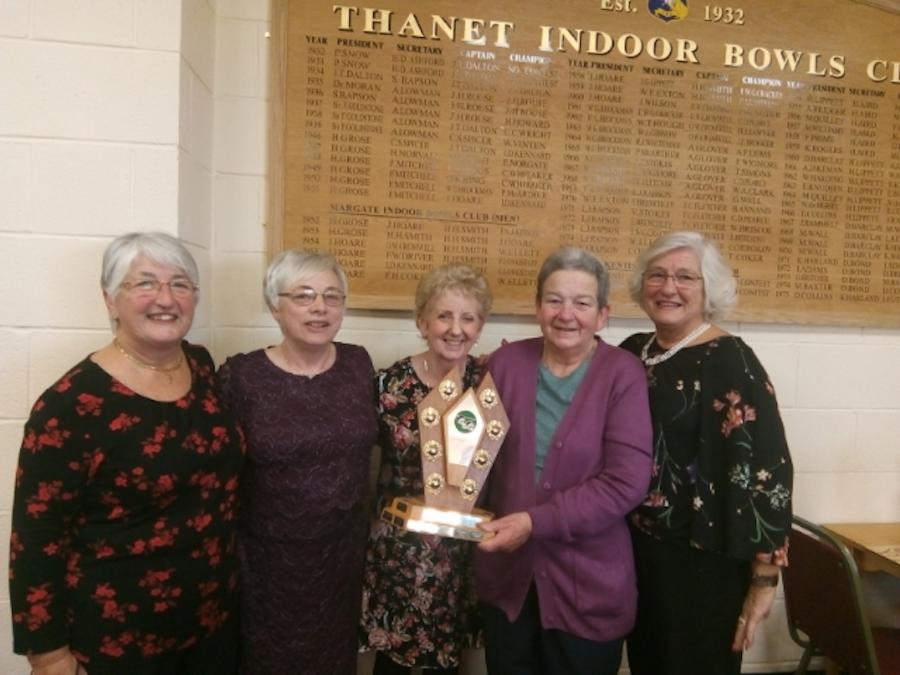 Catherine Wheeler Finals Day at Thanet Bowls Club
The Catherine Wheeler League 'Finals Day' took place on our green this year on the 30th September and provided a very fitting way to close the green down at the end of the 2018 season. The day could not have gone better for TBC who's two triples played 7 matches during the course of the finals day and won the event with 7 wins from 7 games. Birchington BC were awarded the Catherine Wheeler Trophy after the finals concluded as they were victorious in the league fixtures with Thanet a creditable second ... we'll being doing our very best to reverse those two positions next year.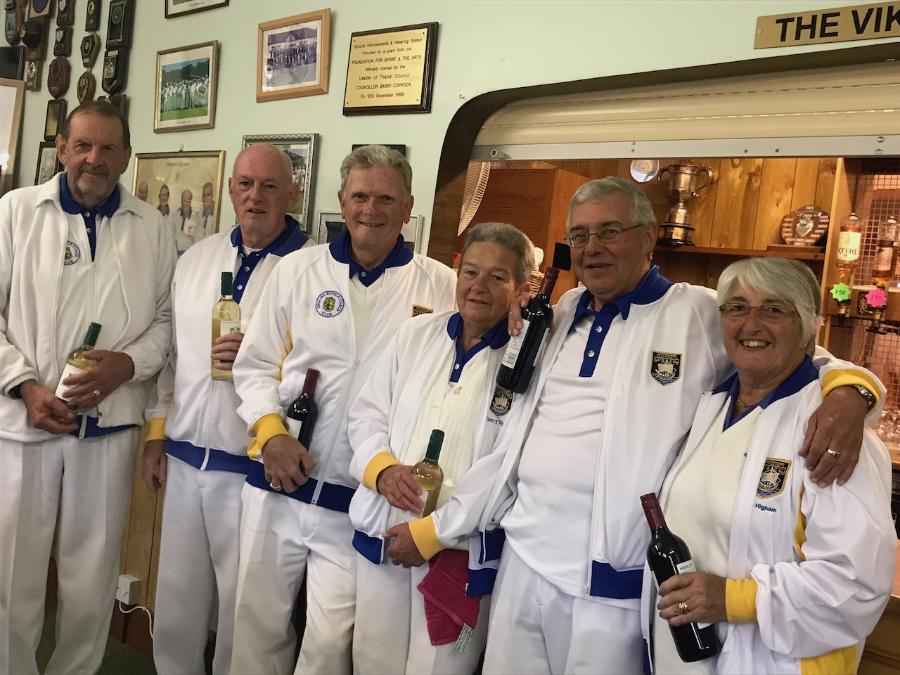 Catherine Wheeler Finals Day Winners (L-R) Dave Golley, Mike Burgess, Steve Smith, Gerry Wood, Dave Robinson & Kath Higham
TBC's New Bowlers of 2018
As the outdoor bowling season draws to a close a 'Tea and Roll Up' party was held at the club to thank all those bowlers who joined us during 2018. Dave Golley (Head Coach) thanked his fellow coaches and most particularly the new bowlers who have integrated so well into the club for the part they played in ensuring a wonderfully successful year for the club. The picture below shows the new bowlers plus the coaches and Captains.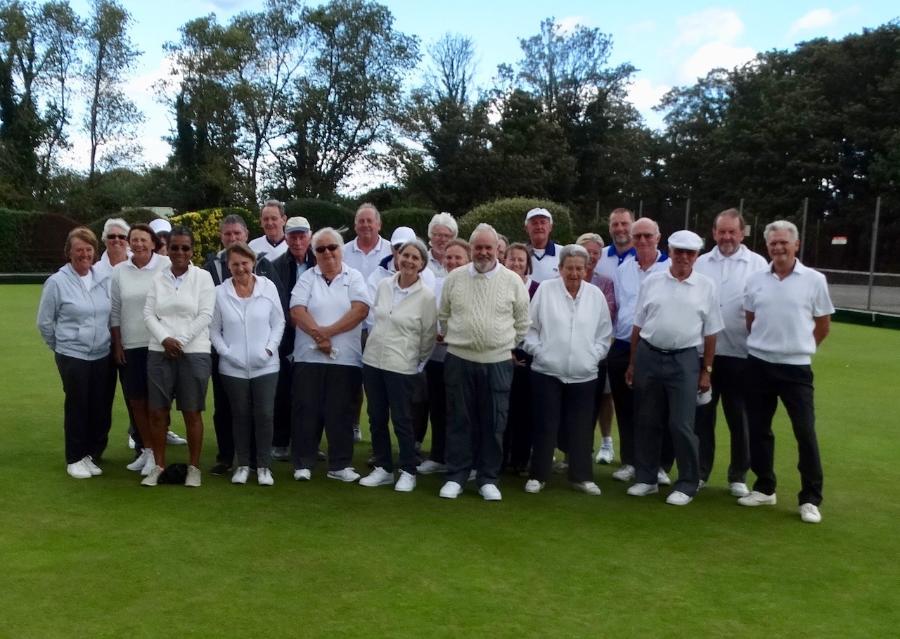 Thanet Bowls Club Ladies win the Ladies' League
TBC Ladies won their final game of the season against Cliftonville today (Thursday 6th Sept) having found out just before the match that they were in fact already assured of first place in the league even without playing. Congratulation to all of the ladies who took part and played fantastically well throughout the season to secure the title.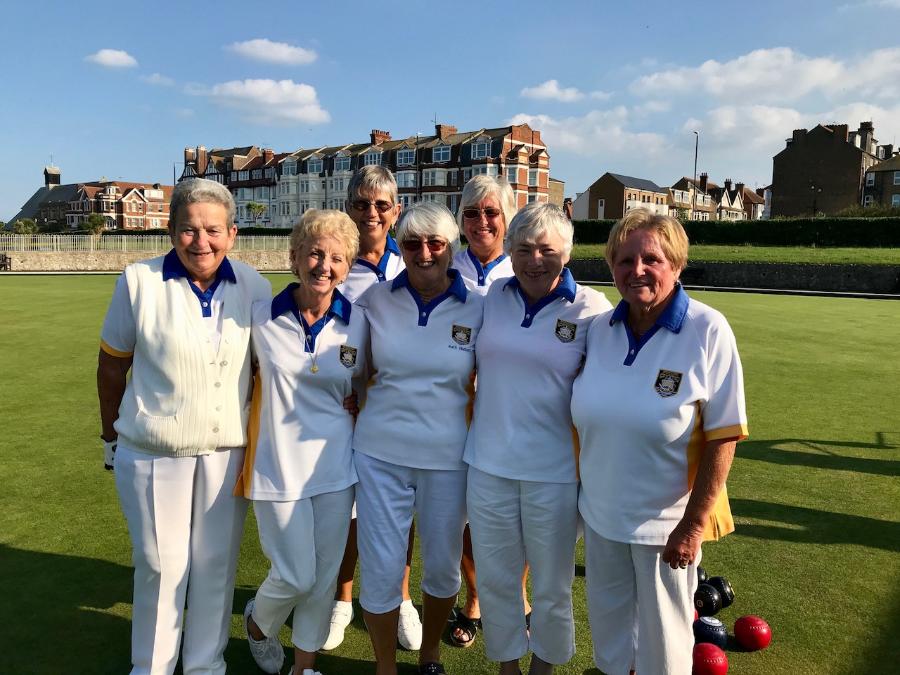 Left to right - Gerry Wood, Linda Zambrana, Claudia Carey, Kath Higham, Mary Chambers, Geraldine Davis and Jenny Brown
Thanet Retain Jubilee Pairs Title
Thanet's Jubilee Pair's team of, (left to right below), Steve Edwards, Mike Burgess, Mike Ashley and Malcolm Boyle, played a great game to retain the Jubilee Pairs title won by us in 2017. Both teams were victorious winning by a margin that saw Dane Park concede the game with several ends still to play.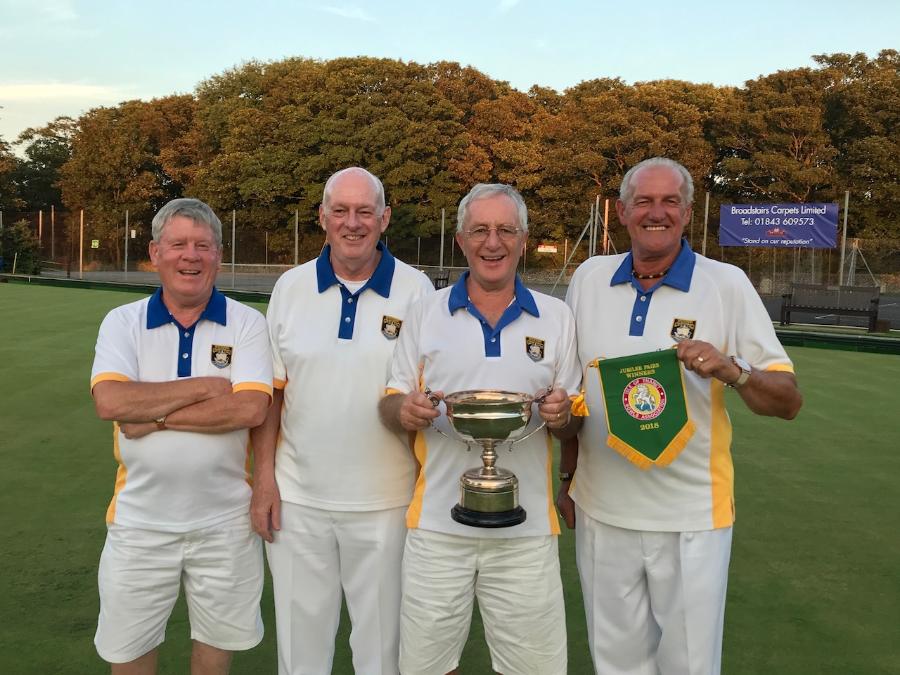 National Finals Success for Claudia Carey
The National Finals were played at Leamington Spa recently and Thanet Bowls Club were proud to be represented by Claudia Carey who gained her place by virtue of her superb victory win in the WKBSA 2 Wood Singles.
Claudia's week got off to a great start winning her first two matches in the knockout format
competition. T
o place this in context this meant that Claudia had won her place in the top 32 in the country. Despite a good, and for much of the time close, game in the next round Claudia was beaten by a score of 16-10 by a bowler from Northumberland.
Well done Claudia ... What a great performance!!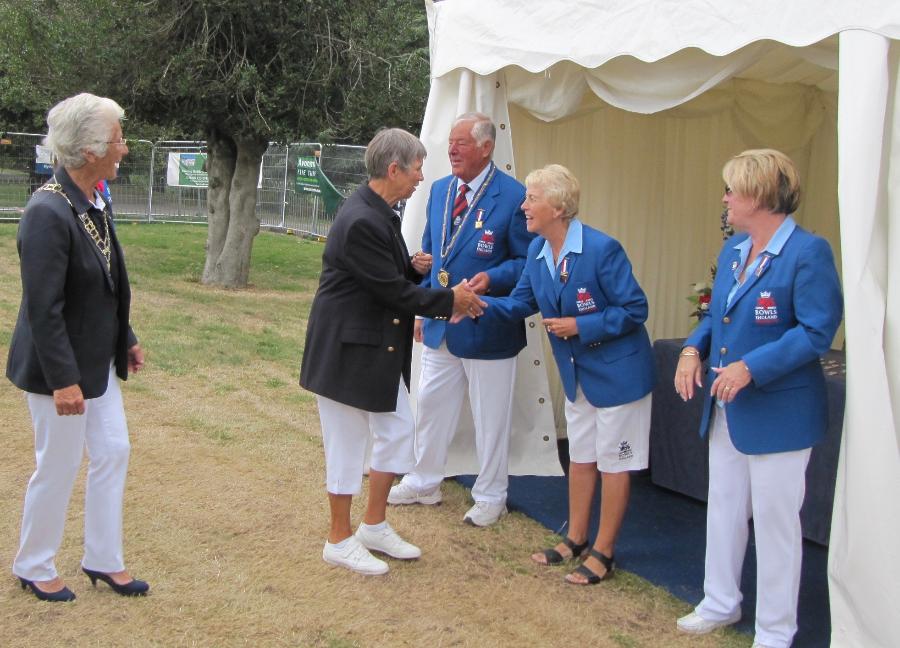 C
laudia receiving her Badge from Bowls England Officials including Bowls England President Bill Smith (above) and (below) with Bowls Kent Lady President Margaret Mortimer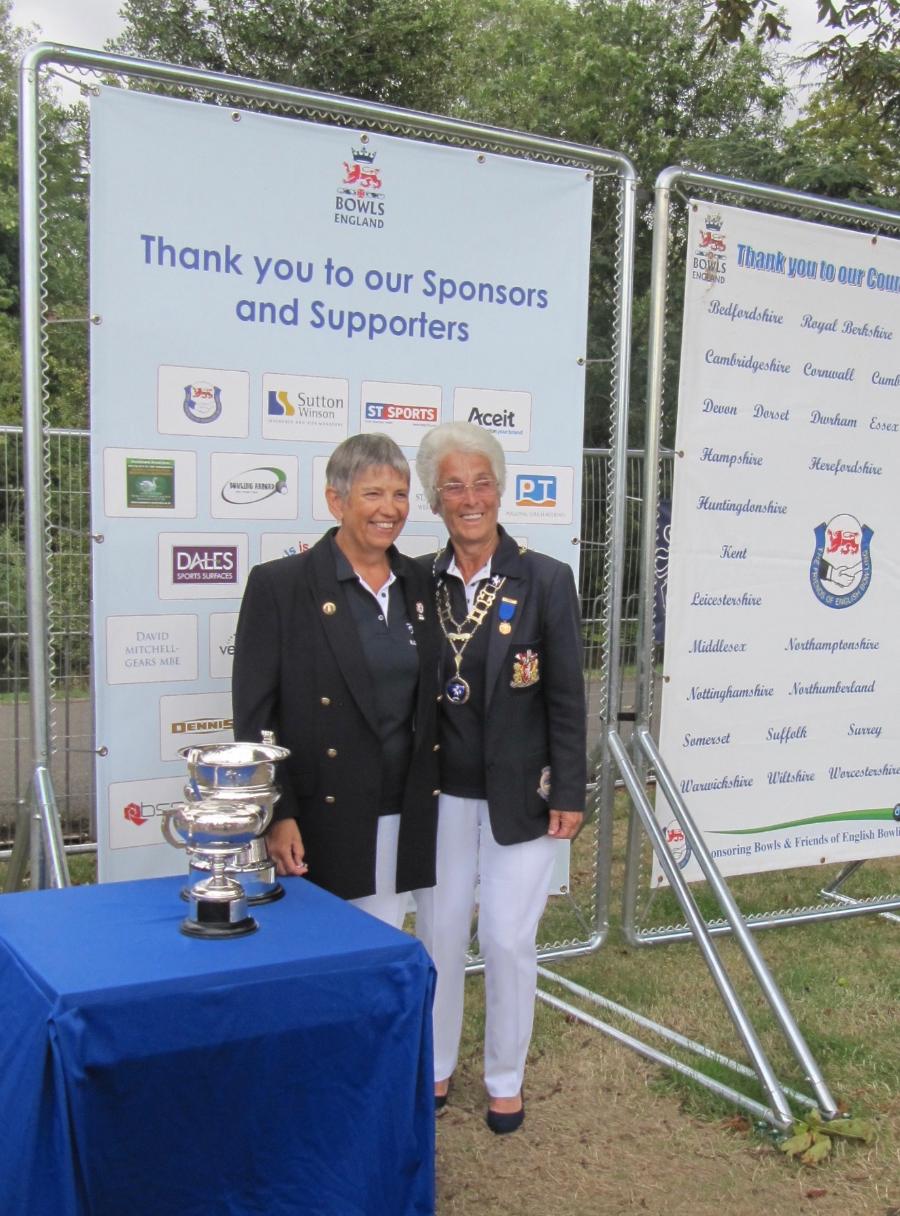 The Letter below from Gail of the Central Essex Touring Team, that we hosted last Sunday, says so much about our wonderful club that I thought it worth publishing in full.
Steve
Hi Mike,
Thirty three happy people left Thanet on Saturday having had a wonderful day at the seaside.
We all enjoyed a couple of hours in the morning at Broadstairs but the highlight of the day was in the afternoon with our visit to your club. I would be pleased if you would pass on our thanks to the rest of Thanet Bowls Club for helping to make this happen.
Our thanks to Richard who spotted our arrival, (I forgot to phone on our departure from Broadstairs), and was so helpful in getting us parked and away at the end of the day.
Our noisy Vice-Captain, John, said it was the best game he'd had . . . . yes, he won . . . but really it was Gerry who gets the credit for keeping him entertained . . . . and if John's happy . . . .
Your catering ladies, (and helpers), did wonders with serving out a hot meal to all. Thank you to them and to Len behind the bar.
Well done . . . . and thank you again to Thanet Bowls Club.
We hope to see you next year
Best wishes
Gail
We would like to express our gratitude to the Piscatorial Society for their kind donation of a Bowls Arm.
For those who may not be aware, a bowls arm is a very useful and practical tool for disabled or elderly bowlers who have restricted mobility and are unable to reach their bowling hand down low to the green for the release. The "bowls arm", is held by the handle at the top and squeezed to release the bowl as the arm is swung.
If you think your game may benefit from the use of a bowls arm please approach one of the coaching team who can make it available for you to try.
New Coaching Programme for 2018
Together, your coaches, (Dave Golley, Peter Carey, Ron Kent and Steve Smith), have developed a coaching programme the aims of which are summed up very succinctly by the strap-line which appears on much of our literature.
"Supporting New and Existing Members"
More information will be made available on club noticeboards. In the meantime please feel free to approach Head Coach, Dave Golley, or one of the other coaches if you have any questions. They will be very pleased to discuss their plans and how they may be of help to you. Also, if you wish to promote a topic for a coaching session during the season, please let them know ... the coaching is for everyone not just new bowlers!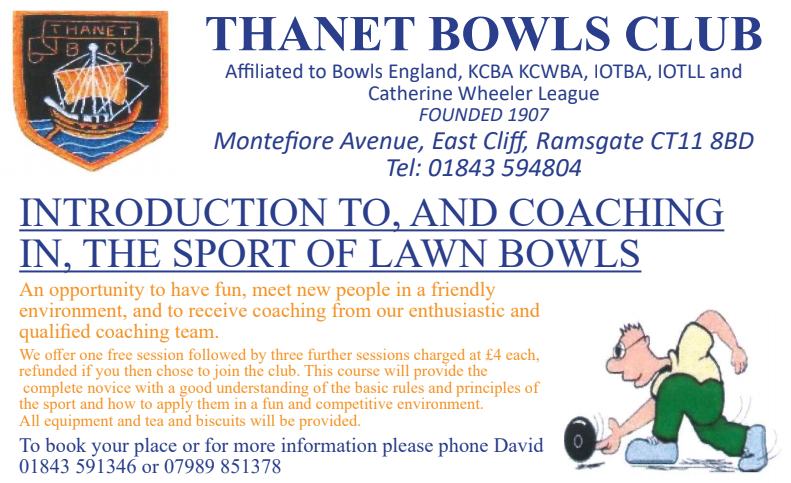 Want to advertise your business at Thanet Bowls Club?
Noticed a large advertising banner on the tennis courts?


If you, or someone you know, would like to take advantage of this advertising opportunity just let anyone on your committee know and we will be pleased to consider the application. The cost of the banner is the responsibility of

the advertiser and the ongoing fee is £20 per month or

£200 per year.
Seen our Facebook page yet? Login to Facebook and find thanetbowlsclub. Once in you can post pictures, videos etc. Only posts of broad interest to your fellow bowlers please.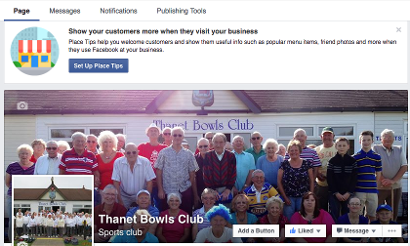 Testimonials

"The facilities and atmosphere in this club are second to none!




"I had several coaching sessions and was delighted with my improvement.





"This is without doubt the best green we have played on all year."
Thanet Bowls Club, Montefiore Avenue, East Cliff,
Ramsgate,Kent. CT11 8BD Tel;01843 594804
Webmaster:- Steve Smith