Thanet Bowls Club - Welcome to our Website
Founded in1907
Affiliated to Bowls England; KCBA; KCWBA; IOTBA; IOTLL & Catherine Wheeler League

About Us
Our Aim is to promote bowls as a healthy, fun and, (for those who want it to be), a competitive sport that may be enjoyed by everyone. Whatever your age, sex, or physical ability you will be very welcome to join us.
Facilities

We are based in the beautiful coastal town of Ramsgate in Kent. The clubhouse and green are excellently maintained and the green in particular is recognised as one of the very best in the area.
Activities
Throughout the summer season we play in various local leagues, (mens, ladies and mixed), providing competition for bowlers at all levels. Many of our members bowl to high standard and compete successfully in county and national competitions. Our club competitions are also very well supported. For those who wish to simply enjoy bowling with friends and gaining all the social fun that this brings our three weekly roll ups typically attract 30+ members.
Coaching sessions are provided by qualified, experienced and enthusiastic Bowls England Coaches who can help beginners and experienced bowlers alike to improve their game.
As well as bowls we enjoy a varied social calendar including quiz nights, bingo, short mat bowls and short bowling breaks to UK resorts
Non-members are welcome paying a small green fee. Bowls and shoes are available for hire. If you wish to take advantage of a rink for an hour or two's fun you are advised to call the club in advance to ensure that match fixtures do not preclude availability of a public rink.
Drop by anytime to see our facilities meet our members and learn more about TBC.
2021 Internal Club Competitions Finals Weekends
Competition Secretary Report & Results
Our Internal Club Finals for 2021 took place between 12th Sept / 19th Sept, where the standard of play in the various finals proved to be exceptional with superb draw bowling to the jack, finding shots to pinch an end when the opposition was holding, taking the holding shot out with controlled weight, comebacks to extend a match when all seemed lost, plus many other skilfull shots leading to the ecstasy and agony we've all become accustomed to in this game we all love to play, and not forgetting the ooo's and aahh's from family, friends and supporters watching on. The overall playing standard within the club continues to improve year on year and is not only showing in the competitions but is also reflected in friendly and league performances.
Congratulations are quite rightly offered up to the winners, and sadly commiserations to the runners-up, but I think it's congratulations all round simply due to the performances and skills shown by all the finalists. Examples of this was - Mandy Russell showing determination in continuing to claw back from 10 shots back in her Ladies Championship match against Alison Manby to get within a shot (19) before Alison got over the line. Linda Zambrana and Annie Macdonald needing at least 5 shots to take their Ladies Pairs match to the last end picked up 6, and although needing another 7 on the last end fought and managed to win 1 but eventually missing out to Liz Allison and Gill Fuller who between them played some excellent shots. Paul Regan secured a hat-trick of final wins with a winning shot in the Mixed Handicap against Steve Grout that was, let's say fortuitous but nevertheless weight perfect! especially as Steve was holding 2 for the match (Sorry Steve!) and was certainly a talking point after what can only be described as an exciting match with quality bowling. However, this indeed galvanised Steve, who also reached three finals but was not deterred. Having been runner-up in his previous two went on to secure a win in his third in yet another hard fought final (Never Won Singles) producing some quality shots against on the day Birthday Boy Paul Cooper who also came to 'the party' and produced some super shots. Richard McAtamney in the 100 Up final was, according to those watching 'on fire' as his consistency throughout the entirety of the match was to be admired. That is in fact just a small example of what we witnessed.
Finals Results
Ladies Championship - Alison Manby 21 Mandy Russell 19
Men's Championship - Mike Burgess 21 Steve Grout 11
Champion of Champions - Alison Manby 21 Mike Burgess 14
Mixed Handicap Singles - Paul Regan 22 Steve Grout 19
Never Won Singles - Steve Grout 21 Paul Cooper 18
Yard of the Jack - Paul Regan 41 Peter Carey 26
100 Up Singles - Richard McAtamney 102 Liz Allison 58
Ladies Pairs - Liz Allison & Gill Fuller 22 Linda Zambrana & Annie Macdonald 16
Men's Pairs - Derek Arman & Steve Smith 18 Trevor Joss & Dave Medley 12
Mixed Pairs - Liz Allison & Paul Regan 19 Claudia Carey & Dave Robinson 17
The finals also need match markers and scoreboard controllers and I would like to offer my personal thanks to everybody that volunteered and participated in those roles and in particular to Bob Gentry and Richard Williams who marked 5 finals between them. Add to that the provision of food and refreshment where on the 12th Sept we had the delights of a cooked meal available with Linda once again providing not only a delicious meal but a wide selection of other delights, therefore my sincere thanks for all that she has done, not only this year but for our finals weekends in previous years. Thanks also to Denise for ensuring we had a fully stocked bar and staff additional to herself to run it. Linda was unavailable for the second weekend but we managed to provide bacon rolls, pasties, sausage rolls and an assortment of cakes and I have to thank my wife Julie for cooking the hot food and to Gerry Wood and Mandy Russell for assisting in the kitchen. Thanks to Gill Fuller for her barmaid work and of course not forgetting Joyce who kindly took up the cashier role.
This is my last season in my term of office as Competitions Secretary which I have been doing since 2018 and can honestly say I've enjoyed immensely. I couldn't have written a better script to sign off organising and running the competitions by winning the Men's Championship for which I have to use that regularly used statement on a win 'I'm over the moon'.
One more task left for me to undertake as Competition Secretary this year, the presentation evening on October 22nd at The Dog & Duck, Plucks Gutter where winners and runners up will be presented with their keepsake trophies, something I'm looking forward to and hope those attending will enjoy.
I would like to take this opportunity of thanking everyone in the club for their contribution to all the competitions I have run since 2018. We have had on average 300+ entries per year to play across the various competitions and although I set up the draws, prepare the sheets and plan the dates it takes the players, markers, scorers, helpers and supporters to also make it work so to that end I thank you and have certainly welcomed and valued your support. Whoever picks up the mantle of Competition Secretary for 2022 will have my support and I sincerely hope you all give them the same support you have given me.
2021 Competition Secretary
Pictured below are the Men's Championship and Ladies' Championship Winners - Mike Burgess and Alison Manby. Numerous other pictures of the winners and the event generally may be found by clicking on 'Photo Gallery' above.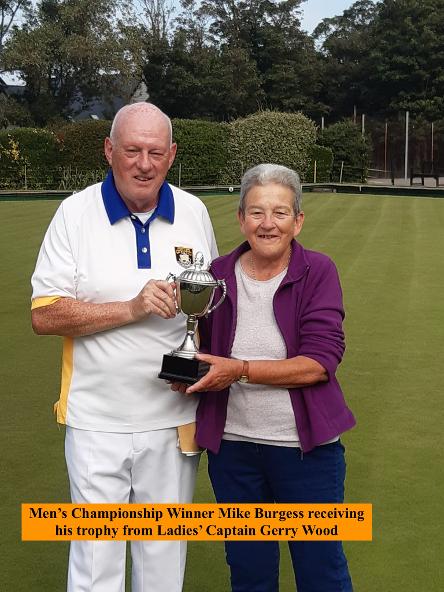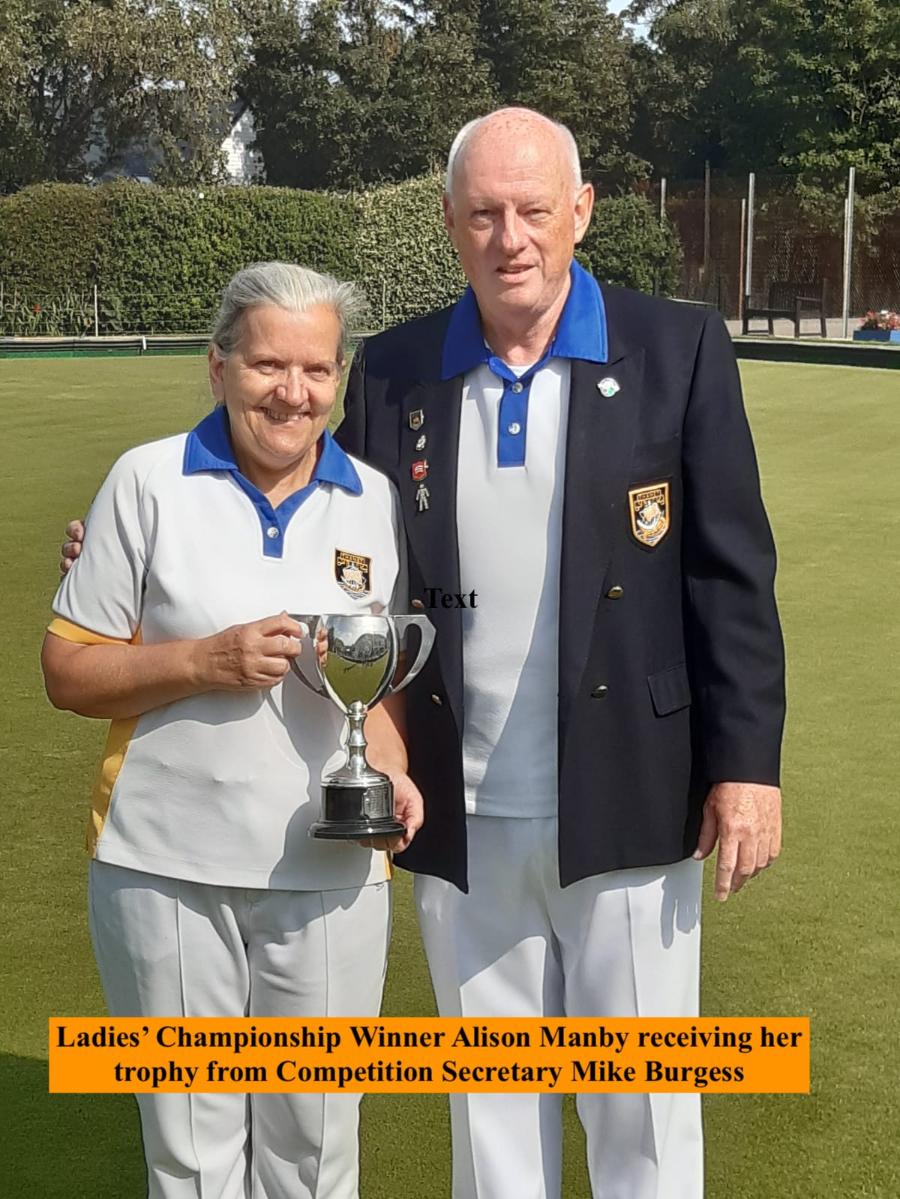 East Kent Mixed Triples League One Day Event - Victory for Thanet BC
On Tuesday 21st September, two mixed triples teams of Gerry Wood, Peter Carey, Malcolm Fuller, Gill Fuller, David Golley and Mike Burgess represented Thanet Bowls Club in the East Kent Mixed Triples League Round Robin One Day Event at Herne Bay. The competition comprised of 8 clubs each with two mixed triples (Thanet, Birchington, Barham, Ashford Town, Herne Bay, Faversham, Canterbury and Minster) playing in a round robin tournament with games played over 8 ends with 3 points awarded for a win and 1 point for a draw. On completion of games the team with the highest number of points being declared the winners. If teams are level then the winners would be determined by (A) Number of Ends Won, (B) Shots Scored (C) In the event of a tie a one end sudden death will be played.
At the end there were 4 teams tied on 15 points (Thanet, Birchington, Herne Bay and Canterbury). After count back on ends Thanet and Birchington were tied for first place, Herne Bay third and Canterbury fourth. It was then checked for shots scored and Thanet were declared the winners by 56 shots to Birchingtons 55!
The day was completed with an evening meal followed by presentation of a cheque to the winners and runners of the one day competition and a trophy & cheque to the winners of the 2021 EKMT League (Herne Bay) and a cheque to the league runners-up (Thanet). Mike Burgess collected both cheques (£40 - Competition Winners / £20 League Runners-Up) which will both be paid into the Thanet BC funds.
Congratulations to Gerry, Peter, Gill, Malcolm, David and Mike on their performance in winning the event.
Graham Palmer Wins 2 Wood Mixed Competition
TBC club members and supporters turned out in force to support the 2 Wood Mixed Singles competition on Saturday 1st August. The whole day was a great success with high quality bowls, great fun and the very best of banter ... which always accompanies such events at Thanet. The arrangements of Competition Secretary, (Mike Burgess), for the day were superb and ensured that the competition ran like clockwork.
After several rounds of excellent bowls the final was contested over 16 ends between Malcolm Boyle and Graham Palmer. Malcolms strong start put him into a commanding early lead after the first few ends. After a heavy downpour briefly halted play, however, Graham slipped back into the relentless good form that he had shown throughout the day and finished as a most deserving winner.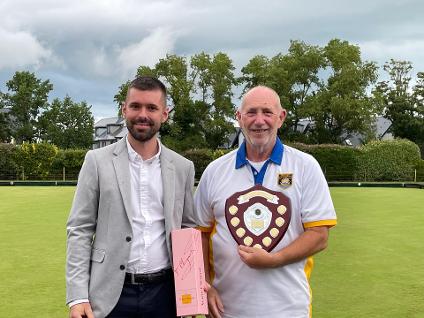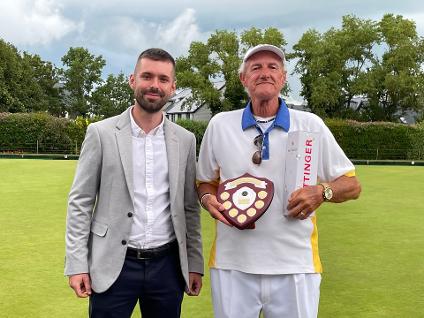 Hayden Fisher representing our competition and club sponsors 77 Wealth Management, presenting the
trophies and prizes to (left) Winner Graham Palmer and (right) Runner -Up Malcolm Boyle
TBC Ladies Triumph in Senior County Fours
Pictured below are Thanet Bowls Club ladies after winning the Senior County Fours at Hesketh Pk, Dartford on 25th July 2021. The ladies had a most emphatic win over Borough Green who, at 21-1 down after only 10 of the scheduled 15 ends, "threw in the towel". The ladies progressed to the final against the reigning champions, Bromley, whose previous successes made them firm favourites in the eyes of many fellow bowlers in attendance at the finals. Thanet's Ladies continued their excellent form into the finals however to secure a very well deserved 12-8 victory.
Claudia Carey (Skip), and Liz Allison had both been awarded their County Badges previously, whilst Gill Fuller and Annie Macdonald only took up bowls when they joined TBC a few years ago and deserve particular congratulations for gaining their County Badges.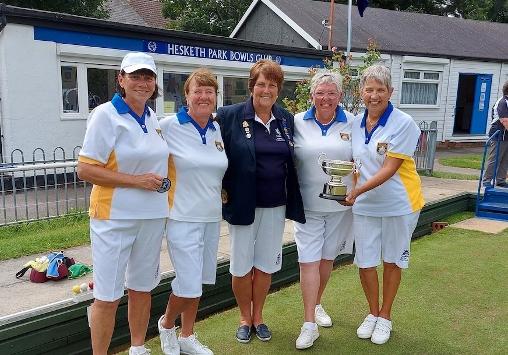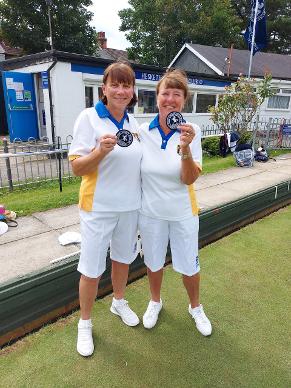 L to R Annie McDonald, Gill Fuller, County Official Gill Bunch, (Immediate Past President} Liz Allison & Claudia Carey
Annie McDonald and Gill Fuller after
receiving
their County Badges
Our Most Recent Testimonial - Central Essex Touring Team July 2019
Good morning , Mike
(
Burgess Fixtures Secretary)
On behalf of Central Essex Bowling Club, I would like you to pass on our thanks to Thanet Bowls Club for a very happy afternoon spent at your club. We could not have hoped for a more enjoyable time. Thank you
Your members made us so welcome
Your ladies (and Steve) served up the most amazing, tasty meal
Your green is in magnificent condition

The weather (pre-arranged) was glorious
I shouldn't mention individuals as I met only a few Thanet members but . . . I would like to mention the kindness of Phil (Rink 2) towards Arthur who is struggling and needs some gentle help. It makes a difference. That was much appreciated, Phil
Sincere thanks, Mike,
Richard, Gerry, Linda, Geraldine, Steve and members of Thanet BC
Gail Kidd
(Fixture Sec, Central Essex)
Our Coaching Programme
Together, your coaches, (Dave Golley, Peter Carey, Ron Kent and Steve Smith), have developed a coaching programme the aims of which are summed up very succinctly by the strap-line which appears on much of our literature.
"Supporting New and Existing Members"
More information will be made available on club noticeboards. In the meantime please feel free to approach Head Coach, Dave Golley, or one of the other coaches if you have any questions. They will be very pleased to discuss their plans and how they may be of help to you. Also, if you wish to promote a topic for a coaching session during the season, please let them know ... the coaching is for everyone not just new bowlers!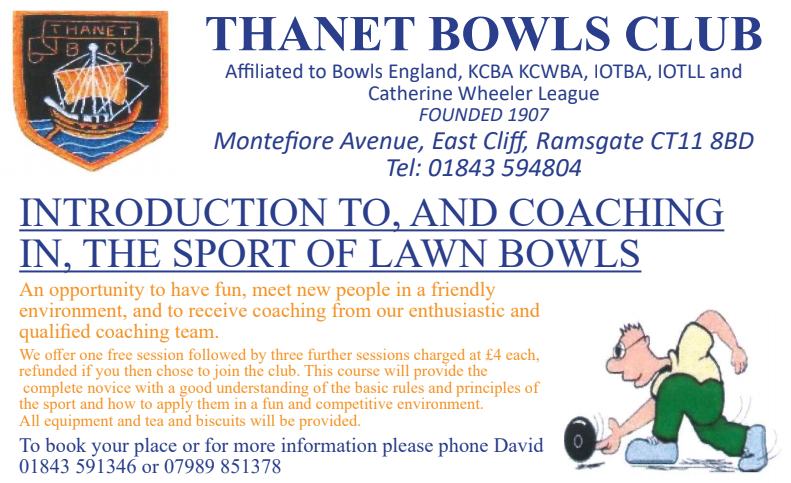 Want to advertise your business at Thanet Bowls Club?
Noticed a large advertising banner on the tennis courts?


If you, or someone you know, would like to take advantage of this advertising opportunity just let anyone on your committee know and we will be pleased to consider the application. The cost of the banner is the responsibility of

the advertiser and the ongoing fee is £20 per month or

£200 per year.
Seen our Facebook page yet? Login to Facebook and find thanetbowlsclub. Once in you can post pictures, videos etc. Only posts of broad interest to your fellow bowlers please.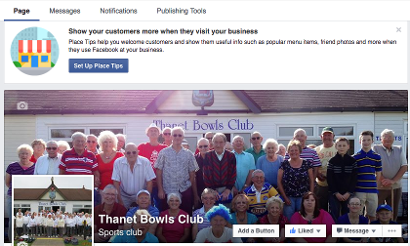 Testimonials

"The facilities and atmosphere in this club are second to none!




"I had several coaching sessions and was delighted with my improvement.





"This is without doubt the best green we have played on all year."
Thanet Bowls Club, Montefiore Avenue, East Cliff,
Ramsgate,Kent. CT11 8BD Tel;01843 594804
Webmaster:- Steve Smith