Thanet Bowls Club - Welcome to our Website
Founded in1907
Affiliated to Bowls England; KCBA; KCWBA; IOTBA; IOTLL & Catherine Wheeler League
Well done to Nigel Harrison who has completed his Sky Dive for Pilgrims Hospice and who would like to thank all his friends at Thanet Bowls Club who donated. See Nigel's video below.
Coffee Morning in Aid of
Macmillan Cancer Support
A massive thanks to everyone who supported the Macmillan Cancer Support Coffee morning. The members who baked, those who brought in bric-a-brac, and of course those who gave up so much time to run the event so brilliantly this year.
Together we raised over £550 for the Macmillan Cancer Support Charity. Well Done!!
What a great finals weekend!!
Well Finals Weekend has come ... and gone, and it feels like the season is really drawing to a close now. Well done to Dave for organising the weekend, and the many games leading up to it so well. Also congratulations to all of the runners up and indeed to everyone who took part and by doing so made the competitions so so good.
Your winners this year are:

Ladies' Champion & Champion of Champions - Kath Higham
Men's Champion -Malcolm Boyle
Mixed Handicap - Trevor Joss
Ladies' Pairs - Alison Manby & Jane Evans
Men's Pairs - Melvyn Robinson & Robin Hawkins
Mixed Pairs - Alison Manby & Melvyn Robinson
Ladies' Never Won Singles - Linda Zambrana
Mens' Never Won Singles - David Golley
Men's Consolation Cup - Melvyn Robinson
Go to the Photo Gallery for loads more pictures of the day.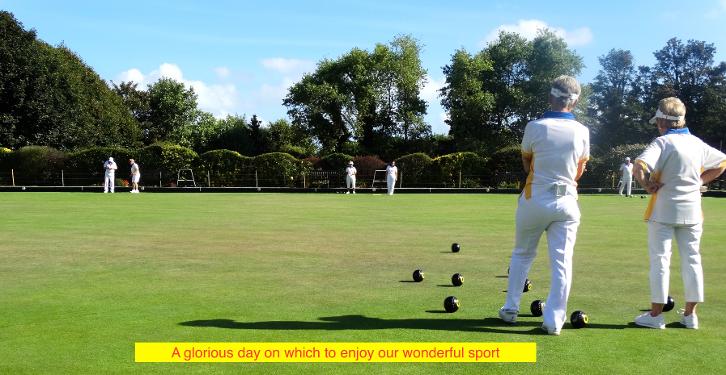 Annual General Meeting
Reserve the evening of 22nd Nov in your diaries for the AGM which will start at 7pm
Nomination forms on the noticeboard and more details to follow.
Want to advertise your business at Thanet Bowls Club
Noticed a large advertising banner on the tennis courts?
If you, or someone you know, would like to take advantage
of this advertising opportunity just let anyone on your committee know and we will be pleased to consider the application. The cost of the banner is the responsibility
of

the advertiser and the ongoing fee is £10 per month or
£100 per year.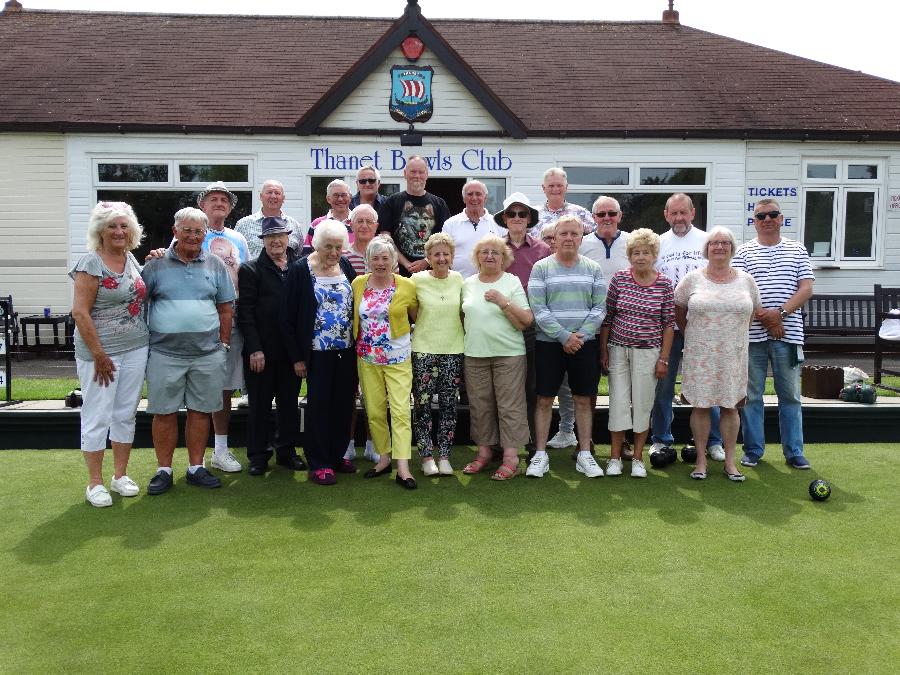 Seen our new Facebook page yet? Login to Facebook and find thanetbowlsclub. Once in you can post pictures, videos etc. Only posts of broad interest to your fellow bowlers please.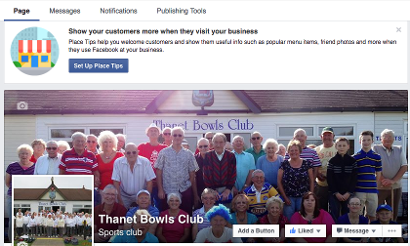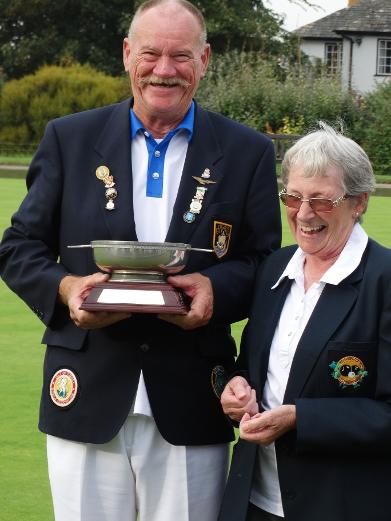 A smiling men's captain Richard Williams receives the Catherine Wheeler Trophy on behalf of Thanet who won the mixed triples league in 2014.
Coaching

Our coaches are experienced, fun to work with, and dedicated to helping you improve and enjoy your bowls. Coaching sessions are regularly held on Mondays at 17.00-19.00. If you are thinking about bowling and would like to find out if it is for you ... why not come along for up to 4 free coaching lessons to find out.
About Us
Our Aim is to promote bowls as a healthy, fun and, (for those who want it to be), competitive sport that may be enjoyed by everyone. Whatever your age, sex, or physical ability you will be very welcome to join us.
Facilities

We are based in the beautiful coastal town of Ramsgate in Kent. The clubhouse and green are excellently maintained and the green in particular is recognised as one of the very best in the area.
Activities
Throughout the summer season we play in various local leagues, (mens, ladies and mixed), providing competition for bowlers at all levels. A few of our members bowl to high standard and compete successfully in county and national competitions. Our club competitions are also very well supported.
Coaching sessions are provided by experienced and enthusiastic members who can help beginners and experienced bowlers alike to improve their game.
As well as bowls we enjoy a varied social calender including quiz nights, race nights, bingo, short mat bowls and barbeques.
Non-members are welcome paying a small green fee. Bowls and shoes are available for hire. If you wish to take advantage of a rink for an hour or twos fun you are advised to call the club in advance to ensure that match fixtures do not preclude availability of a public rink.
Drop by anytime to see our facilities meet our members and learn more about TBC - you can contact us here.









Testimonials

"The facilities and atmosphere in this club are second to none!




"I had several coaching sessions and was delighted with my improvement.





"This is without doubt the best green we have played on all year."
Thanet Bowls Club, Montefiore Avenue, East Cliff,
Ramsgate,Kent. CT11 8BD Tel;01843 594804
Webmaster:- Steve Smith